First Annual DPVA Rural Retreat – Lynchburg 11 – 13 July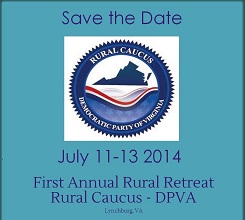 The First Annual Rural Retreat of our DPVA Rural Caucus will be held from July 11-13 in Lynchburg, Virginia. The weeked will be a multi-state meeting/training event with Local and District Chairs, representatives from each caucus of the DPVA, YD leaders, state party leaders, DNC leaders, members of the "I'm Ready for Hillary" group and many elected officials from Virginia, North Carolina, Ohio, West Virginia and Kentucky. We have made the retreat particularly accessible for Young Democrats with a discounted cost for attendance (fee includes meals), as well as discounted rooms for all attendees, capping it all off with free musical entertainment. We look forward to national media also being present.
This will be one of the best training events in the country this cycle, featuring some of the best trainers in the "biz" of electing Democrats, including: DNC Rural Council cofounder Deb Kozikowski, Executive Director, Rural Votes; Jennie Blackton, Trainer, Association of Democratic Chairs, Progressive Majority Vote Center and Women's Campaign International; NARAL Pro-Choice VA and Equality Virginia board member Catherine S. Read, Owner-Principal, Creative Read, Inc.; Nancy Rodrigues, Virginia Secretary of Administration and former Chair of the Virginia State Board of Elections; Laura Lee Kleiner, School Board member, Staunton, VA and Faith Co-Chair, National YDA; and Young Democrats of America Rural Chair Dave Eplin; among others.
Fee is $90 per person, reduced fee is $75 for YDA, includes meals and training materials.