Hamlar to Headline 6th CD Democratic Celebration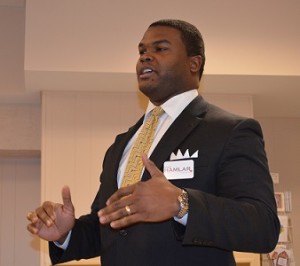 The second annual Northern Sixth Congressional District Democratic Fundraiser and Awards dinner will be held at 6:30 p.m. January 21, 2016, at the Beth El Synagogue in Harrisonburg. Mike Hamlar, fresh off a campaign for Virginia State Senate and who has recently founded the Step Up Virginia PAC will be the featured speaker.
Last year's Northern Sixth District Democratic Grass Roots Award winner, Jennifer Lewis of Waynesboro, went on to be elected as a Director in the Headwaters Soil and Water Conservation District this past November. We look forward to celebrating more future local officeholders.
Recognized by The Blue Ridge Journal as one of the "Top 20 leaders under 40", Mike Hamlar has a true love for business and enjoys being on the cutting edge of change. Mike received his Bachelor's Degree from Wake Forest University where he was a Seattle Bowl champion with the Demon Deacons. He has also obtained an Associate Degree from Mortuary School at John Tyler Community College and an MBA from Liberty University. He is now also pursuing his Doctorate in Business Administration from Walden University.
A member of the Omega Psi Phi Fraternity and the Kiwanis Club of Roanoke, Hamlar is excited about the future of his business, his community and the Democratic Party. Although he has a strong passion for his professional and public life, his highest priorities are his family and his church. He is married to Katina Casey Hamlar and has three children, Simone (8), Michal (4), and Micah (2).
This is the first of two annual events to be held in the district during the coming year. To accommodate attendees at both ends of the 180 mile long region the next event is planned for February at the other end of the district, somewhere south of Lexington.
Tickets are $20 for the spaghetti dinner. RSVP to Sixth District Democratic Committee Chair, Joe Fitzgerald at joseph.gus.fitzgerald@gmail.com.