Pre-Primary Forum in Staunton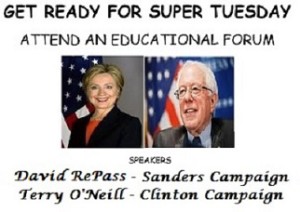 Tonight the Democratic Committees of Staunton, Waynesboro and Augusta County are sponsoring a forum for those planning to vote in the Super Tuesday Primary on March 1st.  There will be three names on the ballot, but Governor O'Malley has suspended his campaign, so this forum features representatives from the Clinton and Sanders Campaigns:
Terry O'Neill, President of The National Organization for Women (NOW), an attorney and a professor will be the speaker for the Clinton Campaign. 
David E. RePass, an emeritus professor of political science at the University of Connecticut, will be the speaker for the Sanders Campaign.
Note: an interpreter from the Virginia School for the Deaf and the Blind has volunteered to provide accommodation for the hearing impaired during the evening. Thank you Rachel Effinger!
The event will be held at the White Star Tavern in Staunton on Thursday, February 25th from six to eight pm.  The campaign representatives will be invited to address the attendees around seven pm.  After both have spoken, there will be an opportunity for questions of them.
This forum is open to the public and there is no charge for admission.  Those attending should enter off S. New Street (upstairs of The Mill Street Grill).  Refreshments will be available for purchase.
Frank W. Nolen, Chair of the Augusta County Democratic Committee said "It appears Secretary of State Hillary Clinton and Senator Bernie Sanders are in a very close race and we would like for the voters of this area to be well informed before they go to vote"
The Staunton Chair David Bottenfield, said ""It is important that the local Democratic committees do what we can to assure that voters are well informed about the issues in the 2016 election.  All interested persons are invited to attend this event."
Dan Sullivan, the chair of the Waynesboro Committee said he hoped voters in Waynesboro would take advantage of this opportunity.